We are committed to offering affordable repair service and consumables for these printer products - years beyond any warranty period offered.
Avery Dennison Monarch 9855 :


Avery Dennison Monarch 9855
MO985508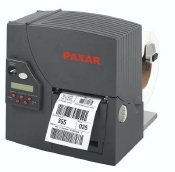 Specifications
(this configuration)
Print Method
Thermal Direct
Thermal Transfer
Standard Connectivity
Serial(RS-232C) (DB9F)
USB (USB-B)
Parallel (Centronics)
Ethernet 802.3 (RJ45)

Print Width
4.0" (102 mm)
Print Speed
10.0 ips (254 mm/s)
Print Resolution
203 DPI / 8 DPMM
Printer Language
MPCL II
Flash Memory
4 MB
RAM Memory
16 MB
Built-in Char Fonts
Bitmap - Standard, Reduced, Bold, OCRA-like, CG Triumvirate, and CG Triumvirate Bold TrueType - EFF Swiss Bold Supports downloaded double-byte (TrueType and bitmap) fonts, allowing for Chinese, Japanese, and Korean character sets.
Built-in Bar Code Fonts
UPCA +2/+5, UPCE +2/+5, EAN8 +2/+5, EAN13 +2/+5, Interleaved 2 of 5, Extended Code 39, Codabar (NW7), Code 128, Code 93, MSI, PDF417, Postnet, MaxiCode, Data Matrix (ECC-200) Code 16K, Quick Response (QR Code), Aztec Code
MSRP
2690.00
Condition
New

Thermal Transfer Supplies

Ribbons and Rib/Label Kits
Thermal Transfer Labels



Coated Direct Thermal Labels (no ribbon RQD)
PC Solutions of South Fl., Inc.





Payment Terms:
Prepayment is required - major credit cards accepted.
Shipping charges are extra.
Shipping charges are NOT refundable.
A restocking fee may be charged on returned items.
COPYRIGHT INFORMATION
This web site, and all its contents, are Copyright © 1998-2018 PC Solutions of South Florida Inc.. (d.b.a. PC Solutions or ChoicePrinters.com) unless otherwise noted. Other material appearing on this site is copyrighted and/or property of their respective owners. No reproduction, modified or otherwise, is permitted without the express written consent of PC Solutions. For detailed information on these products, their images, or accompanying text please contact PC Solutions.
---